Obsession with good hair and looks reaches a new level when females start losing hair. Hair has been a sign of female beauty for long and losing it is a nightmare for all. The hair that you could once beautify and show off with are not there anymore. Covering the head all the time is not a possibility. More than 65% of women deal with some type of hair loss during their life.
Biggest myth is that hair loss is only a male problem. Actually women make up about 40% of all hair loss sufferers. Due to societal perceptions, most women sufer in silence as its not considered normal for women to undergo hair transplant. Its very important to recognize that women's hair loss problem is at par with men's and that they should be treated with equal seriousness and concern.
Causes of

Female Hair Loss

Causes of female hair loss can be linked to hormones, birth control pills, pregnancy, or menopause or simply heredity. Child birth, malnutrition, surgery or stress can cause telogen effluvium to occur. This may cause a handful of hair to come out that can occur for six weeks to a few months. Crash dieting, hairstyles that put stress on the scalp or iron deficiency also may contribute to hair loss.

Short term conditions dont lead to permanent hair loss; hair generally grows back after the conditions has passed. However, long term hair loss is a cause of worry and solution in most cases would be a hair transplant.

Primary reason of hair loss is the genetic sensitivity of a person towards DHT (Dihydrotestosterone). DHT is a by-product of testosterone. Testosterone (hormone that makes you male) converts to DHT with the help of an enzyme Type II 5-alpha-reductace. DHT attacks the hair follicles that are genetically susceptible to shrinkage from this hormone. Its important to note that DHT affects men and women equally.
Andogenetic Alopecia
Majority of women with this form of hair loss have thinning on all areas of scalp. However, men do not have diffused thinning as women do. Andorgens are the primary cause of hair thinning; these are male hormones present in small amounts in all women.
Oral Contraceptives
Oral contraceptives can also lead to hair loss because this method increases the androgen in the body. Women who experience hair loss during use of contraceptives should use low-androgen index birth control pills. If there is a history of female hair loss in your family, we suggest you use another non-hormonal form of birth control.
Symptoms of

Female Pattern Baldness

Female Pattern Baldness is related to your genes and sex hormones. Female Hair generally is in shape of diffused thinning as shown below.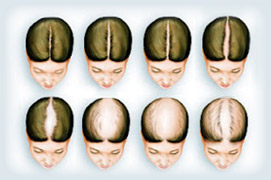 Treatment for

Hair Loss

Medications can help slow down the process of hair loss. But to restore your look and regain the hairline and crown, the only solution is hair transplants. Please consult with Dr. Harmandeep Sidhu for best treatment of your specific hair loss problem.
Medications
Minoxidil, the first FDA approved drug for female pattern baldness, provides a temporary solution to female hair loss.
Amazing

Results